We are honored to share with you this enticing tale of love and a Fireman's lobster pit in Negril courtesy of our friend Jody from the Tropical Tourist. Enjoy!
I had been hearing about the Fireman for years. Years. And although he was only a few steps away from me, I never thought he'd be worth my while. Yeah…seriously.
Who, exactly, do I think I am, to think that a man of this caliber was not worth my while? How embarrassing.
But here's the thing: neglecting this beloved man for so long didn't hurt him at all. He was okay without me in his life because there were others, plenty of others.
If you've been to Negril, there's no way you got away without at least hearing about Fireman's lobster pit; and for your sake, I pray you didn't get away without fully experiencing this man and all he has to offer – the best lobster in Negril, the freshest lobster in Negril.
Do you want to know how fresh my lobster was?
One of the Fireman's guys escorted me from the beachside hut through the powdery white sand and into the calm and clear blue water that led to a trap containing a few lobsters, all of whom were crawling around, waiting patiently to be called upon as the chosen one (I'm just guessing).
Then, together, we named her. I wasn't sure how I felt about naming a creature I was about to ingest, but since it added to the already cool experience I had deprived myself of for a few years, I went with it.
Betsy. That's what we called her.
Meet Betsy
We took Betsy straight to the Fireman. It was a 90 degree day in Negril (aren't they all!), but there he was, planted in front of a hot grill with a lineup of lobsters just like Betsy, all waiting to make the ultimate sacrifice.
Being the laid-back and cool Jamaican that he is, the Fireman sang and danced as he worked his magic (yes, magic) around the grill. I wondered if this man sporting a pointy straw beach hat and a simple shorts-and-tshirt getup knew just how popular he was around town, and around the world, really – just check out TripAdvisor reviews and forums and you'll see what I mean.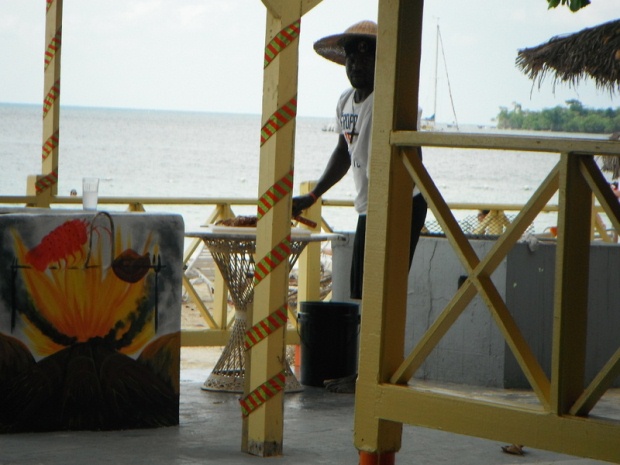 Finally, Betsy was next in line.
The Fireman took good care of Betsy in her final moments. He dressed her up to the nines – in two of the world's most beautiful and compatible ingredients – garlic and butter. She looked so stunning – her finest moment, indeed.
I sat at my table in this large open-air diner painted with bright colors you imagine finding in such a place in the Caribbean. I stared at the beautiful stretch of beach as I sipped on an ice cold Red Stripe, anticipating her arrival.
Then, a few minutes later, there she was – sprawled out on a plate, looking as beautiful as ever. The insanely delicious garlic bread and ice cold Red Stripe sitting next to her weren't too hard on the eyes, either.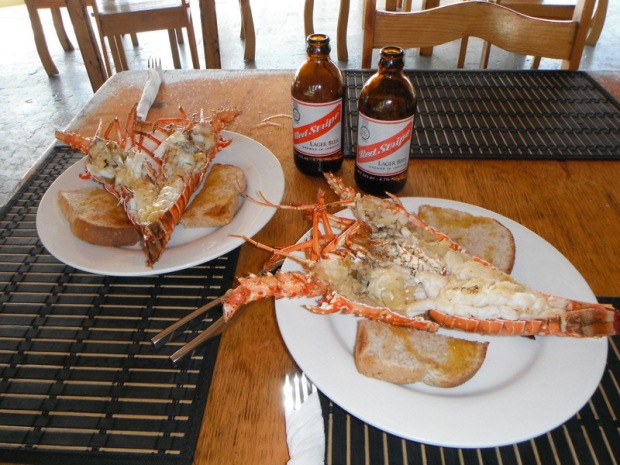 I knew deep down that I was about to have one of the most delicious meals that I've ever had. There was something about the melted butter-garlic combo sliding down Betsy's torso that told me so. Sometimes you just know.
And, sure enough, Betsy was delicious. No, she was more than delicious. Delicious is a word you use to describe a meal or treat that thoroughly pleases your taste buds.
But that Betsy….she did a serious number on my taste buds.
It was the kind of meal you never want to end. You're already planning your next trip back before your plate is anywhere near finished. It's the kind of meal that leaves you punishing yourself for waiting so long to taste it, to experience it, all because you thought it wasn't worth your while to take a few extra steps down the beach. It's the kind of meal that makes you realize you needed the Fireman much more than he ever needed you.
And it's the kind of meal that leaves you fantasizing day in and day about finding your Betsy again. My dear Betsy.
I doubt you'll find the Fireman on a map, so if you're in Negril, you'll find him a few feet down the beach (heading West) from Sandals Negril.
Oh, and if you don't feel like leaving your beach chair to stand around and wait — no problem, mon! He'll bring it right to your chair if you're staying at one of the neighboring resorts.
You'll pay about $20 a lobster, depending on size. And be sure to order an ice cold Red Stripe to go with.
Don't punish yourself like I did. Go. Now.
One Love.
Jody, The Tropical Tourist
We look forward to more tantalizing tales of tropical adventures from Jody in the future. In the meantime, contact us if you have any questions or need assistance in planning your trip.