Music lovers in Los Cabos are having a blast tonight. For the 5th time, Los Cabos is hosting an amazing music festival, a concept that was born in Paris back in 1982 as the Fête de la Musique. This live party is meant to celebrate the wide variety of music styles, genres, rhythms, schools, and individuals. All sorts of crazy are welcome: from mariachis to banda, from salsa to rock, from jazz to funk, from hip-hop to disco.
This music festival is spread throughout the streets of San Jose del Cabo's historic center. Each street has its own ambience. You'll find people walking around, exploring the different beats or sticking to what they like best in just one spot. Even restaurants have their live bands blasting away. It's a real party in every corner!
The best part of it all is:
it's FREE!
You not only enjoy all the rhythms you can think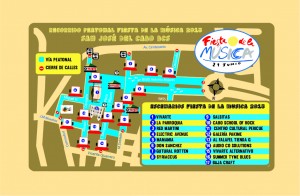 of in one night, you do it for free!
This year's featured artist is Mexican Dubwiser, a promising artist that grabs bits and pieces of Mexican icons and sounds to create a unique new style. Many renowned Mexican artists have collaborated with this rising star, so there's got to be something going on worth listening to.
So, what are you waiting for? Waltz around the streets and have a blast! Pun intended.
Oh, oh! And pretty please, with sugar on top, tell us how it was!!!
Photos from www.fiestadelamusicaloscabos.com. Some web links have Spanish content.